There are necklaces, bangles and earrings but nothing can make you feel like royalty the way that our beloved jewel 'haath phool' does. Yes we're talking about the hand jewellery or hand harness that spreads across the back of your palms and over your fingers adorning and beautifying the (otherwise ignored) hands.
While it's only the movies that revived the popularity of the haath phool, the jewel has been around since centuries in the country – nearly from the times of the Mughals, waiting to win its former glory once again. And now, it seems to just have won over everyone again, for wedding jewellery of today's weddings isn't complete without this gorgeous piece of adornment. And then it quietly made its way into the whole world, having won over many Hollywood and Bollywood celebrities.
What is haath phool and what kinds of haath phool jewellery are usually worn?
Translating to 'flower of the hand', haath phool is precisely that – a flower shaped jewel that is made for the hands (to be more precise, the back of the palms). There is a flower from which connecting strands stretch through to form finger rings and bracelets.
For those of you who aren't entirely familiar with what a haath phool really is, this is what the simplest of them looks like.,
Starting off as a bracelet, the jewel goes on to extend through your hand onto your fingers into a finger ring.
There are heavier, grander versions of the haath phool extend upto all the fingers and make for one really gorgeous jewel to embellish the mehendi-clad hands of the bride.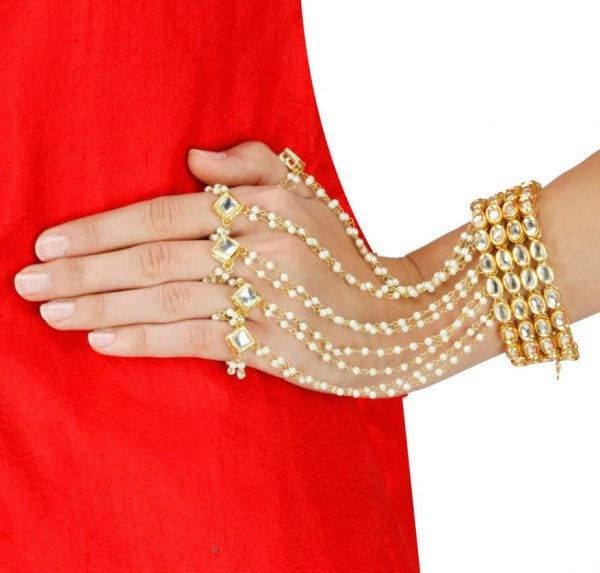 There have however been modifications of the jewel into simpler, funkier versions which are being worn by celebrities through the world today.
History of the Haath Phool
Like most of the jewellery, haath phool took its birth in India, during the Mughal reign. Mughals liked to adorn themselves with jewellery on nearly every single visible part of their body. So why leave out the hands? While royalty was who majorly wore the haath phool, it was the Persian dancers who really popularized it.
Aishwarya Rai, who plays a Persian dancer in Mughal-e-azam is wearing a heavily ornate haath phool.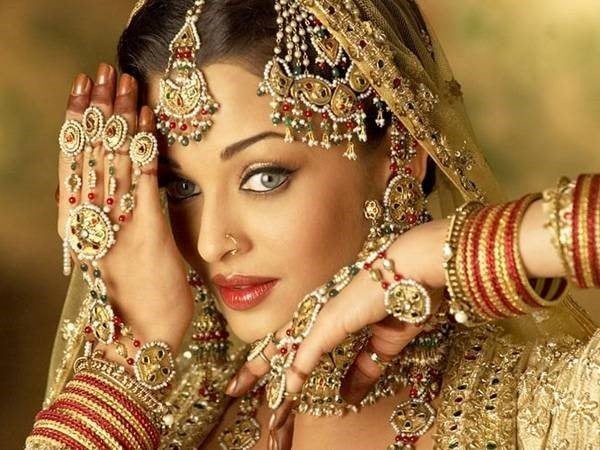 The Nizams then carried on the traditional jewel in their stride and added their own touch to it. And when there are Nizams involved, there have to be pearls involved. So the newer, Nizami version of the haath phool had lots of pearls and diamonds (but of course, owing to their wealth).
They resembled something like this.,
After what was a period of respite for the jewel, this exquisite 'haath phool' won all the recognition and acclaim that it deserved to.

So be it for your wedding jewellery or as an embellishment over your simple desi outfit or even when you decide to go western, a haath phool that goes with it can add a lot of bling and glamour to your attire. What are you waiting for? Go get one (or more) haath phool for yourself right away as they're back in vogue like never before!