Sabyasachi Mukherjee launched his first bridal jewellery collection in 2017. He has been designing heritage bridal jewelry and men's jewellery since then. Sabyasachi recently launched his latest 2019 jewellery collection. The collection includes elaborate uncut diamond and ruby chokers, fine diamond sets, heritage pearl jewellery, emerald necklaces, uncut diamond bangles and much more. Here's are some breathtaking designs from Sabyasachi jewellery collection 2019:
Left – An uncut diamond and yellow sapphire choker necklace with hand-carved peacocks in 22 carat gold.
Right – An intricate bridal choker necklace in uncut diamonds, hand-woven with clusters of tiny Basra pearls.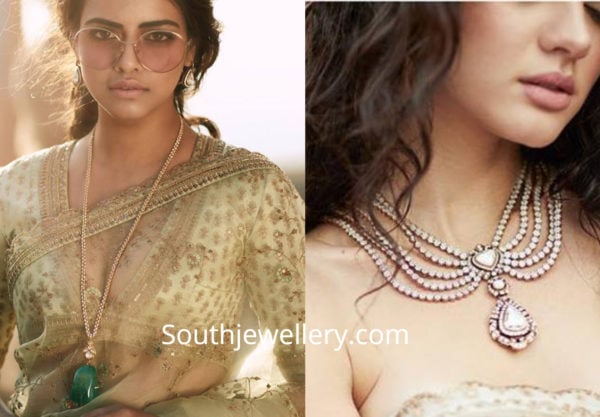 Left – Long chain crafted in 22 carat gold with uncut and emerald pendant.
Right– Layered diamond necklace.
Multi strand pearl long necklace with pendant adorned with rose cut diamonds and emerald.
Left – Heavy bridal choker adorned with burmese spinels and rose cut diamonds paired with matching multi layered necklace.
Right – Antique Victorian diamond necklace set crafted in white gold.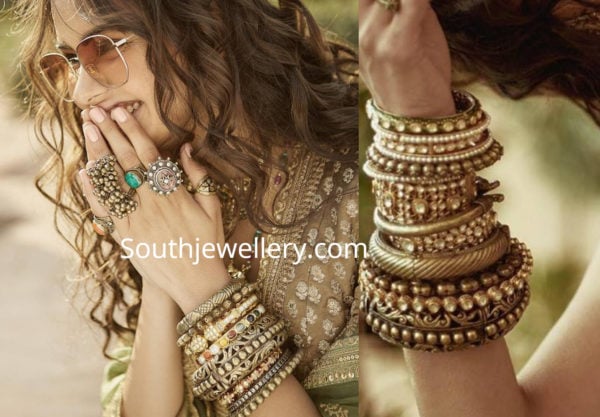 A stack of antique bracelets, bangles and rings in a multitude of traditional designs, set in 22 karat gold, studded with uncut diamonds and other precious stones.
Sabyasachi heritage jewelry adorned with emeralds, diamonds, rubies and uncut diamonds.
These simple gold chains featuring big emerald pendants are versatile and can be paired with any Indian outfit.
Pearl necklace designs with pendants adorned with rose cut diamonds, rubies and emeralds.
Sabyasachi Jewellery Price
The price of Sabyasachi jewellery can fluctuate depending on the gold weight, purity and the stones used them.
The price of Anushka Sharma's reception choker and jhumkas set from Sabyasachi Heritage Jewelry is approximately 25-30 Lakhs.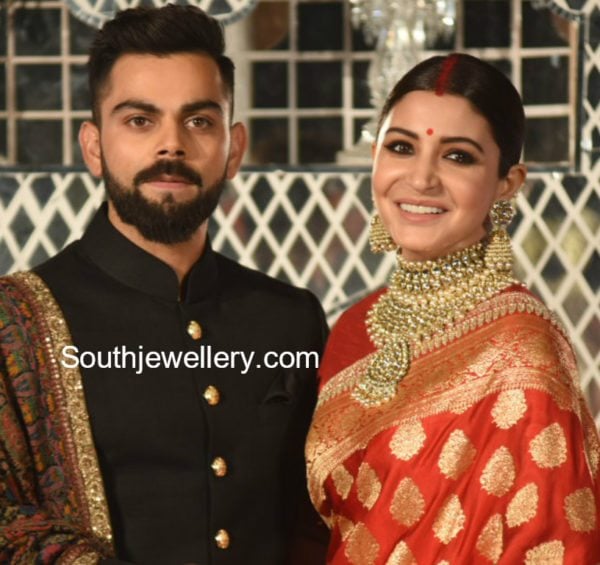 Sabyasachi Heritage Jewelry price range is usually on the higher end. If you love Sabyasachi jewellery designs, but cannot afford the prices, you can get them customized  from your local jewellery stores for lesser prices.
Where To Shop Sabyasachi Jewelry?
For Sabyasachi jewellery related queries email: [email protected]
For appointments call:
+91 83350 62385 | +91 98303 72583 | +91 98305 93953 |+91 62816 73037
Website: http://sabyasachijewelry.com/