The love for Indian jewellery goes back to 5000 years. The material used to make the traditional necklaces changed in time from ivory, copper to gold and diamonds. Though designer necklaces are in vogue, antique jewellery is here to stay for its symmetrical design and orderly progression. One of the traditional forms of necklace is the Kante necklace design. It is also known as "Hasli" in Rajasthan. Kanti necklace designs are similar to chokers which are famous lately. Below are 30 beautiful kanti necklace designs you will surely like.
Kanti Necklace Designs
Try out this mind blowing latest kanthi design to achieve a regal look. It is made of 22 carat gold with a beautiful pendant embellished with ruby stones, guttapusalu and a few green stones.
Yet another antique Rajasthani kanti design is this scintillating necklace. It is unique in its own way with a ball shaped pendant carved with pink rubies and polki diamonds. This gold kante necklace instantly makes your wedding a royal affair.
Is there anything beautiful than a neckpiece which is a mix of hasli and south Indian temple jewellery? Take a look at this stunning kanti necklace encompassing white pearls, rubies and polki diamonds. This kante necklace design is apt for weddings and goes well with a pair of temple earrings.
Another kanthi necklace design in light weight is this alluring neckpiece with Ganesh pendant embossed with ruby stones. It is a hand made ornament with antique design all over. Also, it has light green beads dropping from the pendant.
Differing from the traditional kante designs, this one has a designer pendant with emerald beads and pearls. The pearl fillings in between and the hand made crafting on gold makes this neckpiece appealing.
For those who love temple jewellery, this gold kante necklace is for you. The beautiful krishna pendant is the enthralling work from Indian craftsman. Also, the necklace has gold and pearl droppings giving an attractive look.
                Latest Gold Kanti Necklace Designs

As shown above, this kanti necklace is not just light weight but goes well when coupled with any ethnic outfit. Moreover, the pendant has polki diamonds with pearl and gold droppings.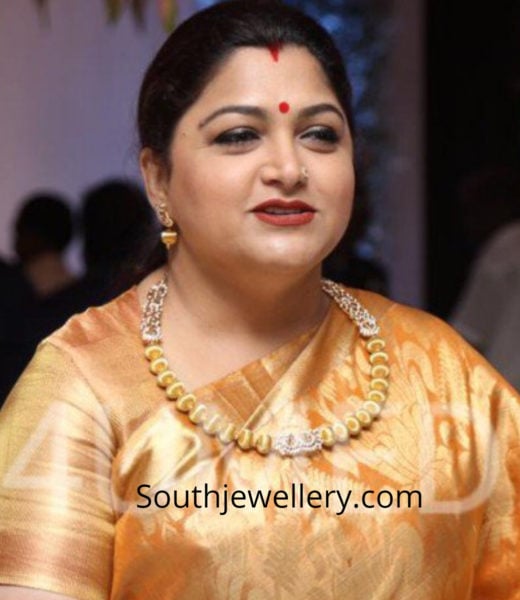 Look how beautiful Khushbu, a renowned south star and Aarti Ravi have adorned this kante necklace. It is made of 22 carat gold with diamond pendants in between. The ball design makes it more attractive.Take some inspiration from her and grab your neckpiece today!
The price range of these kanthi necklaces depends on their weight. Light weight kanthi necklaces price start from Rs. 2 Lakhs.