The gold temple jewellery has its roots from the chola, pandya and krishnadevaraya dynasties of 9th century. Being connoisseurs in jewellery crafting, these rulers used to offer the meticulously crafted ornaments to the deities on special occassions. From there came the name Temple jewellery. Later, this jewellery was adorned by classical dancers of Kuchipudi, Bharatnatyam and Odissi. The Temple jewellery is exuded in bridal exhibitions and fashion ramps lately. Since then, women are flaunting stunning temple jewellery designs on various occasions. The jewellery ranges from a small nose ring to chunky necklaces and waist belts.
One of the pioneers to integrate temple Jewellery designs into modern settings is Navrathan Jewellers. This festive season, they came up with unique gold Temple jewellery collection you'll never want to miss. Take a look!
Temple jewellery haram and necklace collection
Temple jewellery is not just a symbol of Indian heritage but is also a fashion trend. Additionally, the harams and necklaces of Navrathan jewellers come in designs like peacocks, lotus flowers, gods/goddesses. They are perfect not just for brides but also go well with ethnic wear on special occasions.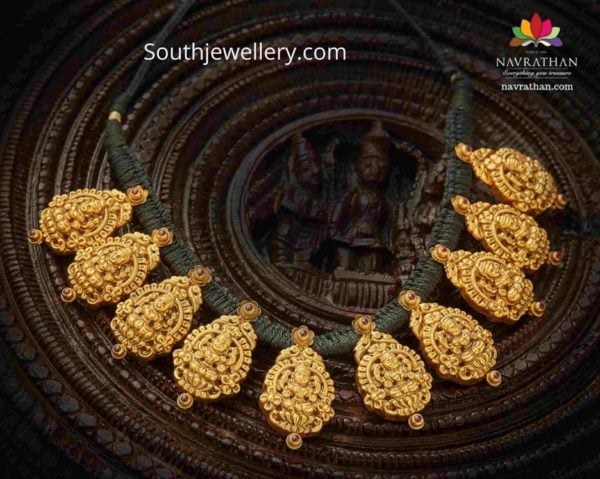 Look regal in this antique temple jewellery necklace with 22 carat Lakshmi pendants dropping from a black dori. The neckpiece is made with 10 carefully handcrafted Lakshmi pendants studded with ruby stones.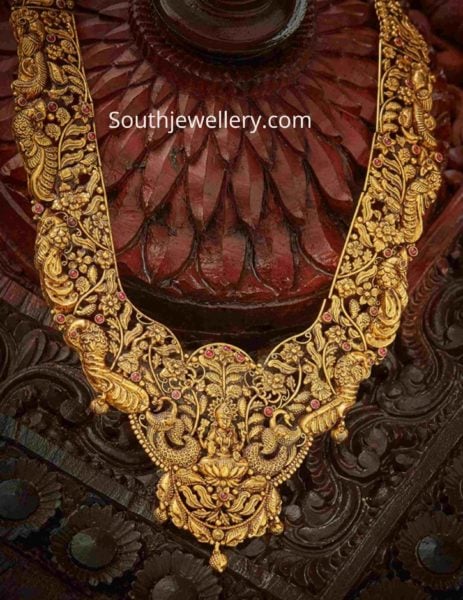 This elegant gold temple haram from Navaratan jewellers is filled with beautiful peacock designs on either sides. Small Lakshmi idol seated on a lotus flower at the center is the value addition to this haram. Also, this south Indian jewellery piece is fusioned with leaves and floral work along with small pink ruby stones.
When we talk about Temple jewellery designs weight and price, they are heavier than designer jewellery. But, a single ornament suffices in giving you the grand look. So, if  you are  concerned  about  price,  go  for  the  imitation  temple  jewellery  which  is  quite  affordable.
Latest Temple jewellery collection by Navrathan jewellers
Coined temple jewellery is trending these days. The necklace and haram represents effective craftsmanship. Moreover, the small Lakshmi idols on the coins beautifies the ornament. Apart from few red ruby stones in between, the rest of the jewellery is made of pure gold. Also, each Lakshmi idol on the top is separated by a strip of gold. The necklace and haram are the epitome of Temple jewellery and are a must-have this festive season.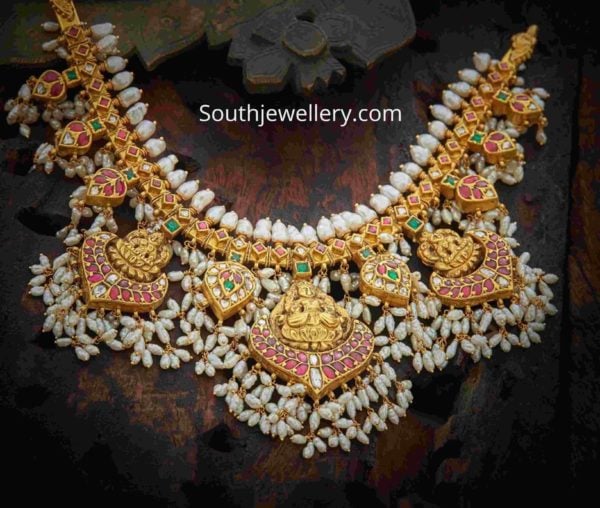 For those who love guttapusalu, this type of temple jewellery design is for you! The necklaces are made of 22 carat Lakshmi idols stud with coloured stones and white guttapusalu. They go well with any ethnic outfit and studded earrings.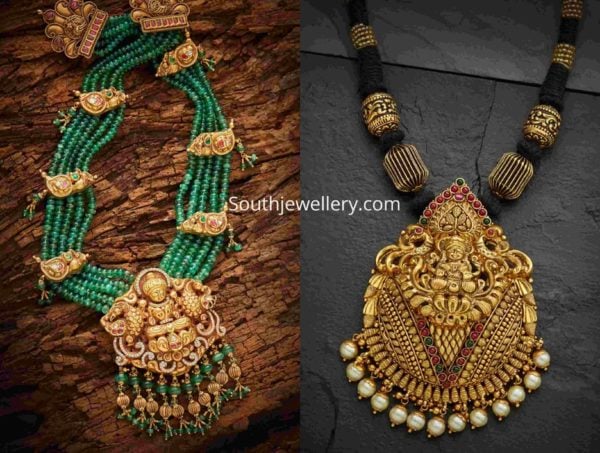 An alternative for full gold temple jewellery is this beaded and black threaded harams from Navrathan jewellers. The four layered green beads temple haram is unique in its kind with beautiful Lakshmi pendant flanked with peacocks on either side. And, the black dori haram is the amalgamation of white pearls , red and green stones.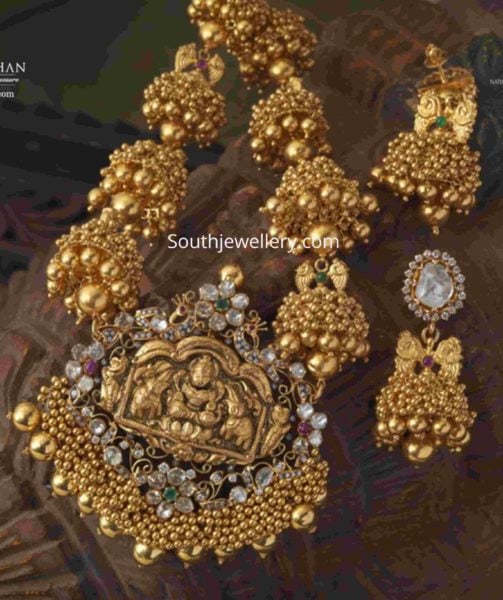 Temple jewellery Chokers
Though designer chokers are in vogue, traditional temple chokers are also gathering prominence. Above all, temple jewellery chokers instantly make your wedding a royal affair. 
The chokers have the goddess Lakshmi embellished at the centre. The beautiful craft of golden leaves and flowers encompassing the choker elevates the look of the ornament. The guttapusalu and gold droppings in the end gives a perfect finishing to the neckpiece. Match it with a good pair of ear drops and you are good to go.
Temple jewellery pendants
Look at the beautiful temple pendants above. Undoubtedly, they are the best pendants in the recent times. The eye catching designs have emblems of Hindu gods and goddesses and some other carvings. Also, they have attractive gold hangings with red ruby stones.
Earrings
A stunning pair of chunky earrings with bare neck is also a trend these days. If you are looking for traditional jhumkas, these are for you.

To give an ethnic effect to your dressing, the Indian craftsman meticulously designed these temple jhumkas with emblems of goddesses and peacocks. Moreover, the antique earrings designs with contemporary shapes are a perfect blend of trend and tradition.
Vaddanam designs
One of the best temple jewellery designs is a vaddanam. For a traditional south Indian bride, these antique temple vaddanams are a must have.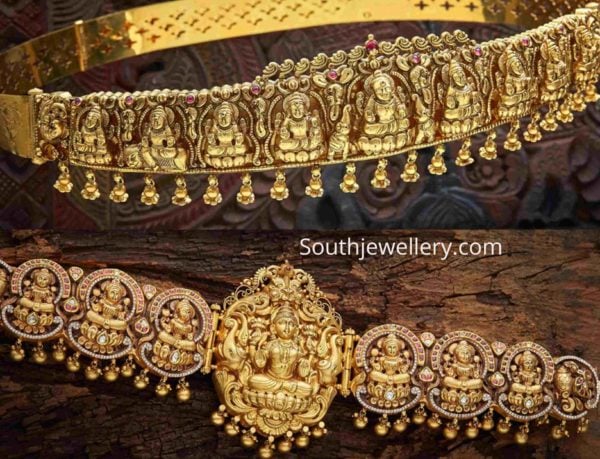 Available in chain and belt models, the vaddams are the mix of eye catching nexus of diety symbols. These  temple  vaddanams  are  an  awesome  work  of  the  craftsmen. Furthermore, the precious  diamonds and red stones on the waist belt elevate the overall look.
Temple Jewellery bangles
Owing a set of temple jewellery bangles is a dream of all women. Navrathan jewellers has wide range of temple bangles you'll surely fall for.
With the goddess symbols aligning each other, these antique bangles are purchase worthy this festive season. Whether it is a pure gold bangle or stone stud one, every woman looks stunningly beautiful in these bangles. The bangles match any occassion yet offer a trendy look.
Vanki Designs
For a south Indian bride, vanki or armlet is an important piece of jewellery. Nothing can beat a traditional vanki though many designer vankis  are  in  the  market.
Vanki designs with carvings of goddess Lakshmi is a great way to achieve the retro look. Moreover, the small pink ruby stones and peacock carvings add beauty to the the vankis.
Now that you have an idea on the Temple jewellery designs, it is now time to invest on the one you like. You can either shop temple jewellery online or message them on facebook. Also, you can visit their store in Bangalore and try out their various jewellery designs.
FACEBOOK: https://www.facebook.com/navrathanjewellers/
SHOP ONLINE: https://navrathan.com/all-temple-jewellerys/