Women in India love to display their marital bliss by flaunting their pristine mangalsutras. Not merely as a portrayal of happiness, but a mangalsutra serves as a symbol of unity between the pair. The age-old tradition of wearing a mangalsutra by Indian women is also to cast out the evil energies from marring a happy marriage. Are your wedding bells ringing? Or are you looking out for a contemporary mangalsutra? You are at the right place! Indian jewelry has been revamping lately and mangalsutras are not any exception. Today's Indian women have myriad options in choosing the different types and styles of mangalsutras. One such style that is trending these days is the mangalsutra bracelet.
Brace yourselves! We are going to show you all the unconventional and trendy hand mangalsutra bracelet designs, so you don't have to visit any other site.

Celebrities Wearing Mangalsutra Bracelets
The internet is all about big fat bollywood weddings the last two years. The unforgettable one among those is " The Sonam and Anand Ahuja wedding". Sonam kapoor, being the fashion icon of bollywood always surprises us with her styling. Just when the netizens are getting over her startling wedding, she gave an another reason to reminisce over it.
The fashionista designed her mangalsutra with the pair's sun signs on left and right with a beautiful solitaire in between. She's seen flaunting her mangalsutra around the wrist that caught everyone's attention. Since then, women are going gaga over mangalsutra bracelets.
 Yet another celebrity who transformed the way mangalsutras are being worn is Shilpa Shetty. The fitness enthusiast is clicked by the paparazzi at an event and her mangalsutra is what caught the eyes of many. Her mangalsutra with a simple black beaded chain with an alluring central pendant is lauded by her fans. It's time you take some inspiration from the two celebrities and invest in a trendy mangalsutra bracelet.
Mangalsutra Bracelet designs and where to buy them Online:
With many brands rendering mangalsutra bracelets, it is difficult to choose where to buy. We have sorted that problem for you and gathered the best stores that have latest mangalsutra bracelets and we are sure you won't be disappointed after your purchase.
1. PNG Jewellers
PNG jewellers offer wide range of jewelry for women while mangalsutra bracelets are their latest addition. They feature single and double stranded bracelets with a combination of gold and black beads with beautiful diamond pendants, which are carefully crafted for daily use. They are available at reasonable prices ranging from 10,000/- to 60,000/-.
Shop Online – BUY HERE
2. Mangalsutra Bracelet designs by Candere by Kalyan jewellers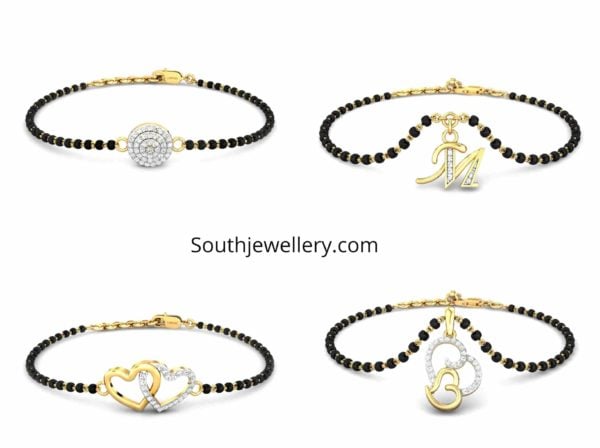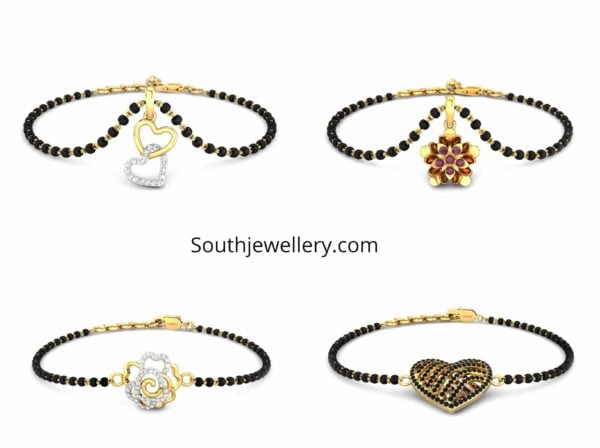 Kalyan's mangalsutra bracelet collection is unique and has variety of models for newly weds, working women and also home makers. The bracelets come with charming pendants which also feature alphabets and names. Try out their collection today!
Shop Online – BUY HERE
3. Caratlane
Caratlane from Tanishq is known for trendy jewellery since long. Their mangalsutra bracelets are not just trendy, but also affordable. The rose gold variant is sleek to look and goes well with your salwar suits and any western outfits. The prices range from 10,000/- to 20,000/-.
Shop Online – BUY HERE
4. Mangalsutra bracelets by Tanishq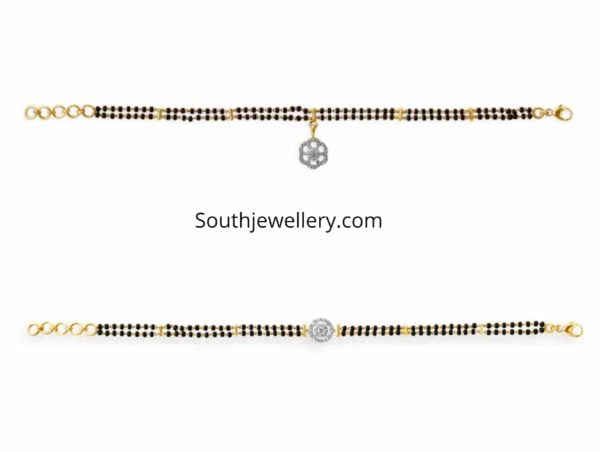 If you don't want to miss out the conventional look a mangalsutra gives, go for the collection from Tanishq. Their double stranded black beads mangalsutra bracelets with 18k gold links and a beautiful diamond solitaire is a perfect blend of trend and tradition.
Shop Online – BUY HERE
5. Bluestone
Ranging from 15000/- to 60,000/-, Bluestone has humongous collection of mangalsutra bracelet designs for all ages and purposes. Additionally, Bluestone offers try at home option if you want to verify before buying. They offer colourful pendants made of ruby and diamonds and the chains made of 18k gold and black beads.
Shop Online – BUY HERE