There is no other occasion so important in any woman's life as her marriage, to own all the splendid jewelry. It is more so for an Indian woman. The Indian bride looks so resplendent in her dazzling jewelry sets teamed up with her exclusive bridal clothing. Bridal jewelry accentuates the overall appearance of the bride on her D-day and should be carefully chosen. Thanks to all those pre-wedding ceremonies in India such as the Engagement, Sangeet, Haldi ceremony, Mehendi ceremony, Tilak, Janavasam and many more, depending on the family tradition. Each ceremony have its own importance and the bride looks no less than a princess with all her adorned attire and sparkling precious jewellery.
Lets take a look at the top 9 South Indian bridal jewelry that's trending this wedding season:
Diamonds are a girl's best friends. Diamond jewelry has occupied a most prominent place in Indian weddings with its precious characteristics. The lavish bride in her authentic bling-bling diamond jewellery set amazes everyone on her big day. Diamond jewelry goes well with any kind of bridal attire and adds more extravagance to the great occasion.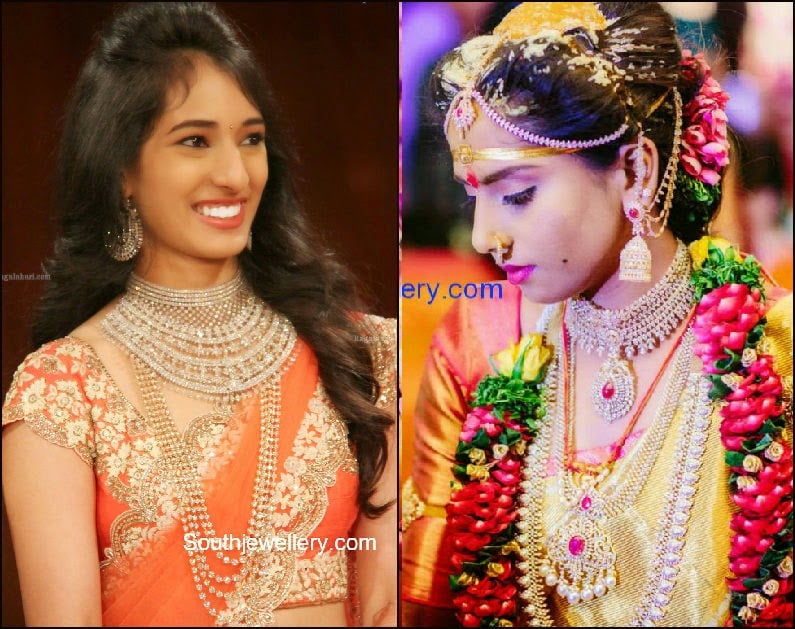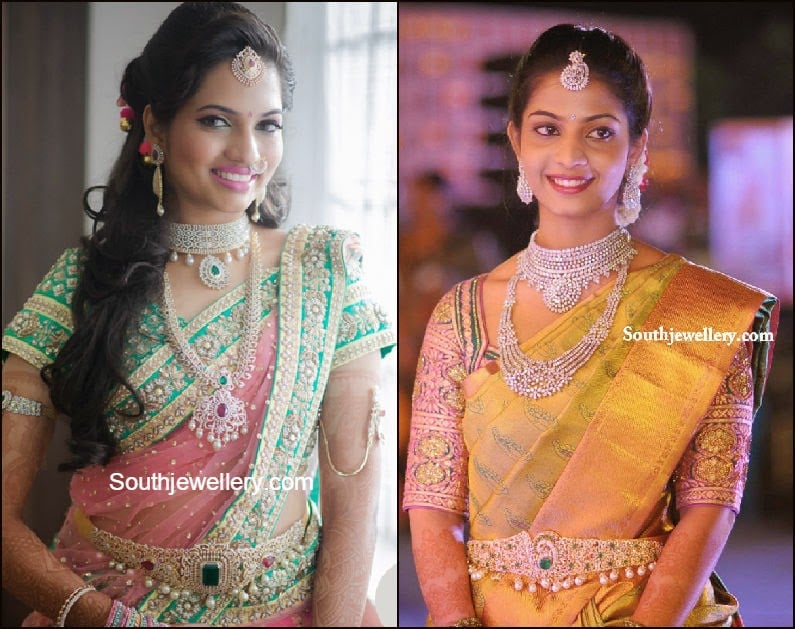 2. Mango Mala
Mango Mala / Managa Malai is a traditional South Indian necklace that is back in trend and has risen to great popularity. This lavish elaborate traditional Mango Mala intricately set with precious stones is one of the best South Indian wedding jewelry and is very much in trend. Mango Mala makes the bride look extremely flamboyant and ethnic on the significant occasion.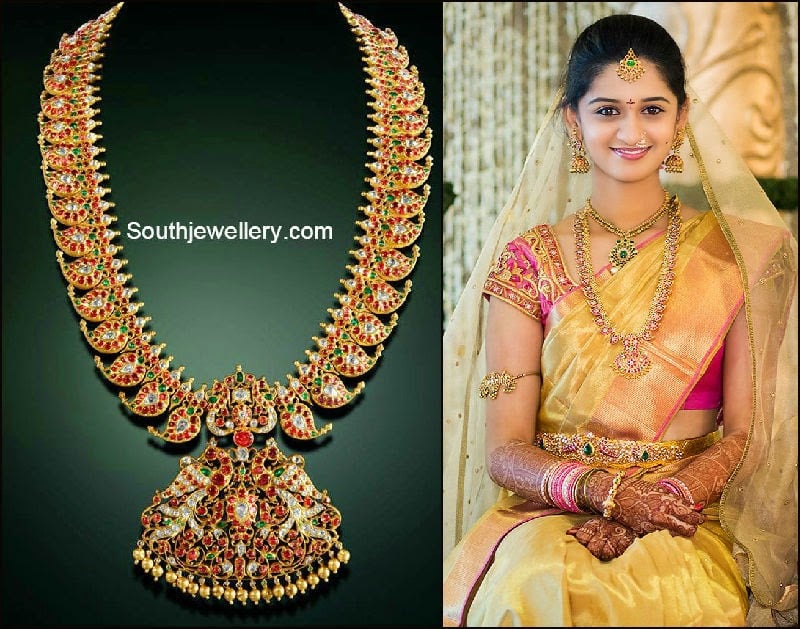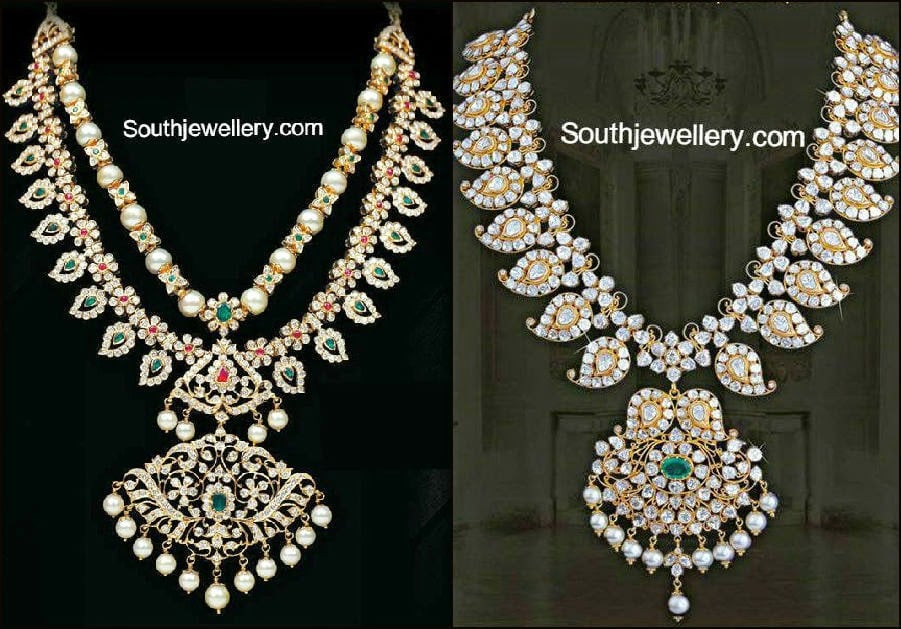 3. Nakshi and Temple Jewellery


The Nakshi and Temple jewelry gives the bride a divine and exquisite look. The antique finish layered chains of gold balls, colored beads and Nakshi work is all set to give the bride a million dollar appearance. The Goddess pendants studded with precious gem stones, uncut diamonds, polkis, nakshi balls or south sea pearls are trending since this jewellery looks heavy and gives the bride an opulently traditional appearance. Nakshi waist belts or vaddanams are very popular to flaunt the overall bridal appearance. The favorite design for pendants is that of Lord Ganesha and Goddess Lakshmi.
If you are dreaming of a wedding that resembles that of an Indian Rajkumari then kundan or polki jewelry is set to realize your royal imagination. Polki jewelry which was introduced by Moghuls is made of unfinished natural diamonds. Polki necklace sets, heavy chokers, chandbalis or the Jadau polki sets with intricate Meenakari and enamel work are trending now among Indian brides and gives the bride an extremely royal look on her wedding day.
Jewelry crafted in antique finish has become popular in India for its ethnic looks and have become a significant bridal choice. Antique jewelry is made in numerous forms like Meenakari, kundan work and so on. The dull polished antique jewelry with black look or Bikaner jewelry in fact camouflages the glittery heavy worked bridal attire.
The haath-phools, maang-tikkas, kadas, vanki, waist belts and heavy neck pieces in antique designs are making a huge comeback. Antique finish gold balls or gold beads long chains (Gundla Mala) are very popular now. Kundan antique haram is a great choice as well.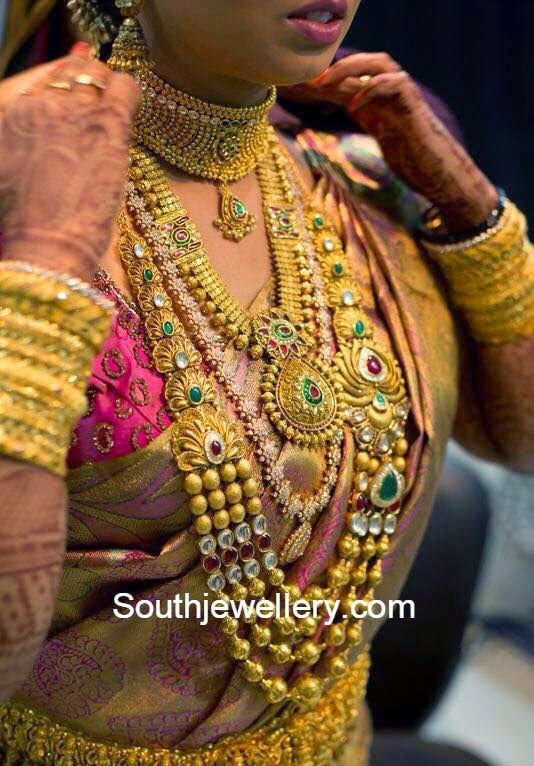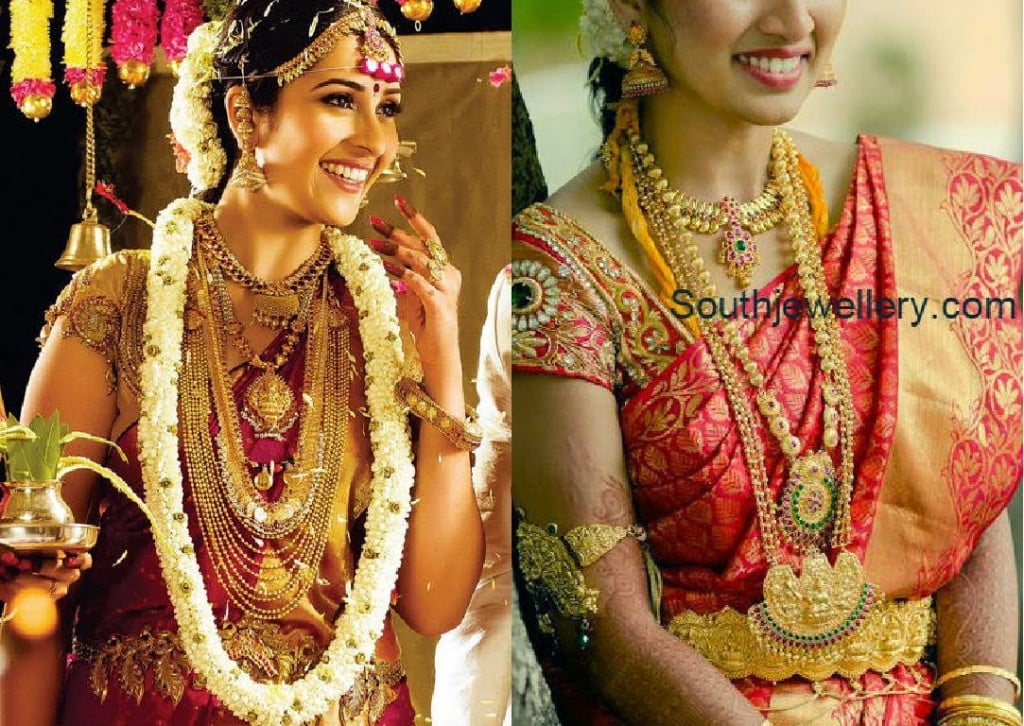 6. Guttapusalu Haram / Pearls Necklace
Gutta Pusalu haram is a famous South Indian traditional design with heavy bunches of beautifully adorned small pearls, clustered along an antique gold chain. The Gutta pusalu haram or necklace is usually studded with rich rubies, emeralds or kundans and looks very graceful which is why it has become a trendy choice for today's brides. Some of the Gutta pusalu necklaces come in reversible models with different colored  stones studded on both sides.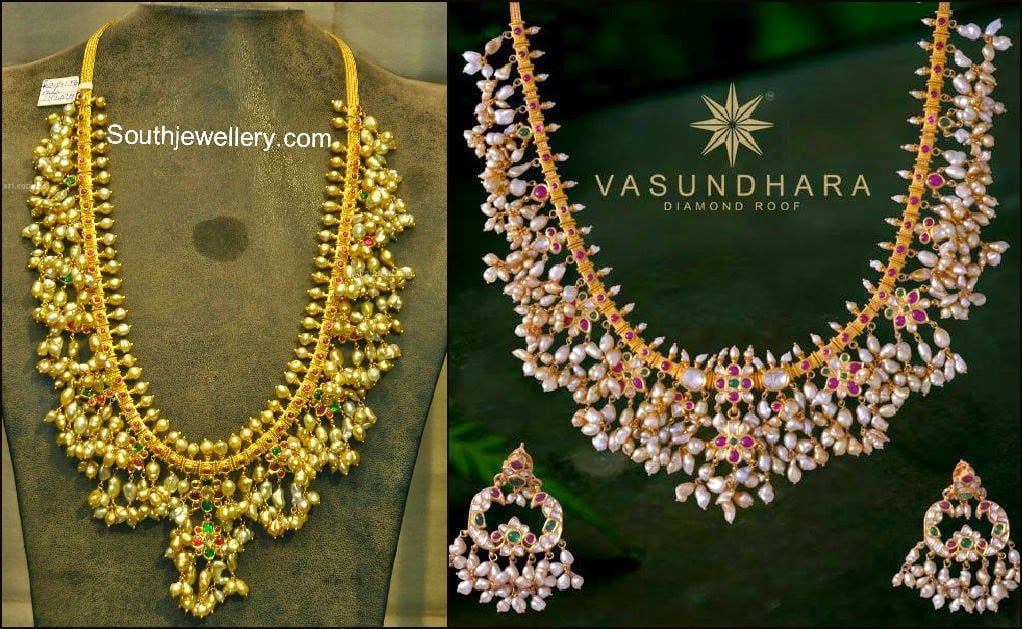 7. Pacchi Jewellery 
Pacchi work is one of the most intricate art in jewelry creations. It originated from Jaipur and is antique. Pacchi jewelry pieces are created using glass stone, colored pacchi leafs, and moti (pearls). Every leaf is embellished by hand on the top of the other, which makes pacchi jewelry even more special and unique with a three dimensional appearance. Aesthetically designed and finely finished, the pacchi jewelry have become the bride's latest favorite.
The beautiful Kundankari was introduced to Rajasthan during Moghul period and today the kundan jewelry is the hot favorite of bride-to-be. Gems and stones are so skillfully set in gold with intricate Meenakari work which makes the ornament look extremely elegant. While polka is an uncut natural diamond, kundan is made of glass stone (glass polka). Heavy chokers with kundans complete the rich appearance of today's bride.
Kasu haram or kasulaperu is a traditional piece of jewel designed with coins teamed together with embossed design over the coins. Kasu harams come in either shiny or dull antique finish. This famous timeless jewel of Kerala is admired by the brides who want those rich traditional looks. These Kasu malas are trending in a huge varieties of designs and different traditional works, each piece being an eye-catching antique art.
A beautiful assortment of an intricate choker or uniquely designed necklaces and harams of different lengths creates a luxurious appearance for the brides.
Tags:
South indian wedding jewelry; south indian bridal jewelry; latest trends in south indian wedding jewellery; latest indian jewellery trends 2015; 2015 jewellery trends; top best jewellery for south indian weddings, best south indian jewellery for engagements; sangeet jewelry; south indian bride; how to wear jewellery for south indian weddings; 22 carat gold jewelry; 22 carat gold indain bridal jewelry; real south indian brides