South India's most popular ornament- Vanki, is also known as armlet or arm patti  or bajuband. Bridal jewellery is never complete without the Vanki adorning the mehendi-clad hands of the stereotypical Indian bride. So if you've decided to go vanki shopping, either for a big wedding or for the festive season, we must warn you that it is not easy to pick one among the host of vanki designs that are out there in the jewellery shops lately. And to make your job easier, we've picked top 10 vanki / armlet designs that are trending now. All you have to do is pick that one (or more) designs that steal your heart at the first sight!
1. Traditional Vanki
Get yourself a vanki of the very original traditional design. For all its beauty, the traditional vanki is totally worth owning. A heavy stone embellishment on a traditional vanki can only make it look better.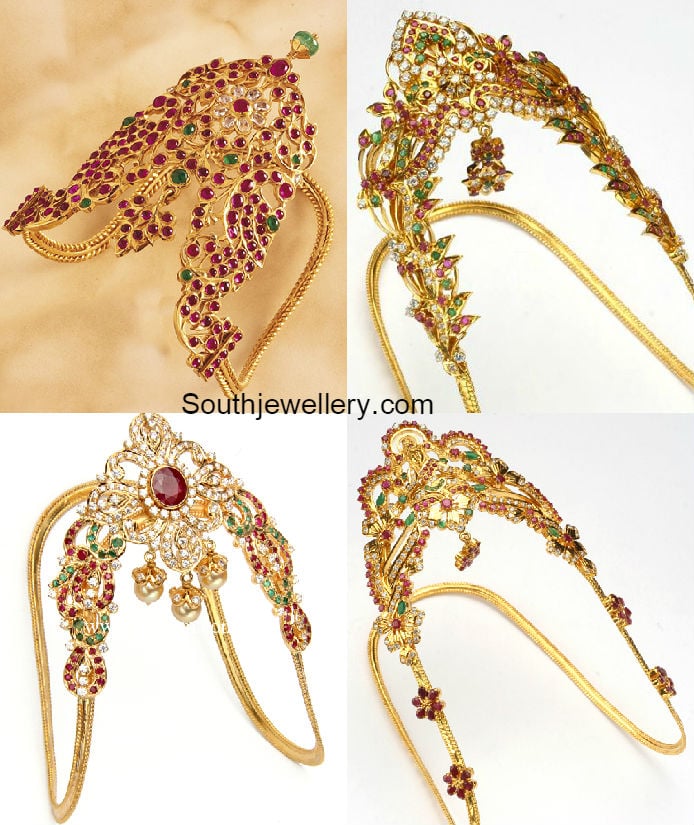 2. Nakshi Vanki
Vankis made out of the very ethnic and regal, temple jewellery with beautiful carvings made out of gold on them can make your wedding a truly, royal affair. Temple Nakshi vanki designs with a carving of Goddess Lakshmi are a great way to make them look retro, beautiful while also adding a divine element to them.
3. Diamond/Precious Stones Goddess Lakshmi Vanki
Nothing beats a diamond or precious stones vanki with goddess Lakshmi carved on it. Add a stone drop to it and it's bound to look as beautiful as this.
4. Clutch Vanki / Arm Patti
A simple clutch vanki with some colored stone work to match with the colour of your saree is a great choice for pre-wedding events. Clutch vankis that come in some gorgeous temple jewellery like carvings are a novel, yet very ancient way of getting your vanki designed. Add grandeur to your otherwise simple clutch vanki with heavily studded stones and stone drops to go with the colour of your saree.

5. Thread Vanki
Lately, most vankis like this one below, come with threads to tie them up to your hand –this is an age-old trend has now been revived and we must say is a very traditional, beautiful way of wearing the vankis.
6. Chain Style Vanki / Bajuband Designs
Why not use a gold chain to tie-up your armlets instead of threads? These vanki designs below shows us just how beautiful and grand, golden tie-up vankis could be.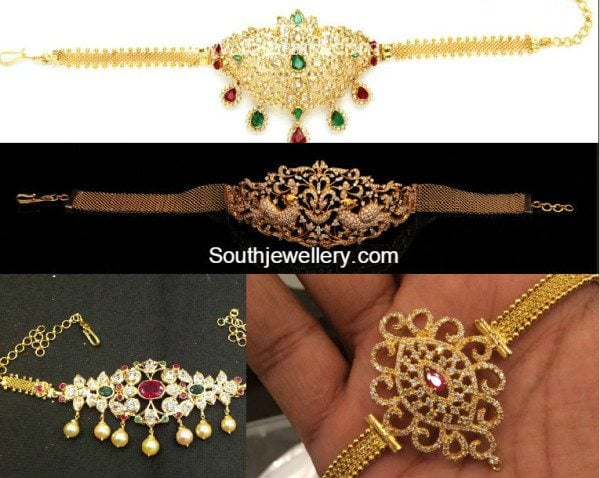 7. Peacock Vanki Designs
When it comes to Vankis, peacock designs seem to be everyone's favorite pick. And looking at these beautiful peacock vankis, we just know why.
8. Pearl Vanki
Pearls impart a definite grandeur to your bridal jewellery. If all your jewellery has a lot of pearls in it, there is every reason why your armlet should be made of a whole lot of pearls too!
9. Bangle Style Vanki Designs
Simple yet elegant bangle style vanki designs.

10. Armlet cum Choker Models
2 in 1 armlet cum choker models studded with diamonds and precious stones which can be worn in two ways – as an armlet or as a choker are worth purchasing.